The world is witnessing the ancestors of an ancient civilization, with a unique language, culture and history, coming closer and closer to annihilation. Less than two months ago, Azerbaijan, with military support from Turkey, attacked a region known as Artsakh, or Nagorno-Karabakh, which has been inhabited by Armenians for thousands of years. Turkey and Azerbaijan deny the Armenian Genocide of over a century ago, while still engaging in military violence against Armenians and refusing to allow territorial sovereignty to traditionally Armenian lands today. In order to prevent history from repeating itself, we must look at this point on the globe, listen to its people's stories, and search for new ways to defend those whose most valuable resource is their humanity.
"Azerbaijan broke ceasefire agreements from 1994* and began bombing and destroying not only military bases, but also civilian infrastructures. This attack was premeditated and has been fully supported by Turkey. At this point, it's obvious that the conflict was not just about territorial disputes, but more over an ethnic agenda."

(Mané Andreasyan, an Armenian activist, in Diaspora in the United States since 1995. Author of "Armenia, an Ancient Civilization shielding against Pan-Turkism")
* "A ceasefire brokered by Russia" (National Geographic)
This ethnic agenda stems from Ancient History, but is not a thing of the past. Legend says the river valleys of Artsakh were where Noah's descendants first settled. Starting in 6th century BC, Armenia became an Empire that spread from sea to sea since. Its language and alphabet is of distinct Indo-European origin, dating back at least 5 thousand years. Its artifacts and architecture "have also continuously written the story of their evolution" (From Armenian Origins, by Thomas J. Samuelian).
In the late 1800s and early 1900s, religious and ethnic tensions between Armenia and its Muslim neighbors lead the Ottoman Empire to commit heinous acts of violence against the Armenian population. Between 1914 and 1923, one and a half million Armenians were killed by Turkish forces. At first, mass deportations, forced labor and starvation crippled the Armenian population in Constantinople. Then there was genocide — wholesale killing and marches toward the Syrian Desert.
"Turks are Muslims, and Armenians are historically the first Christian nation. Turks believe(d) that Armenians were/are an inferior race and should be slaughtered." (Andreasyan)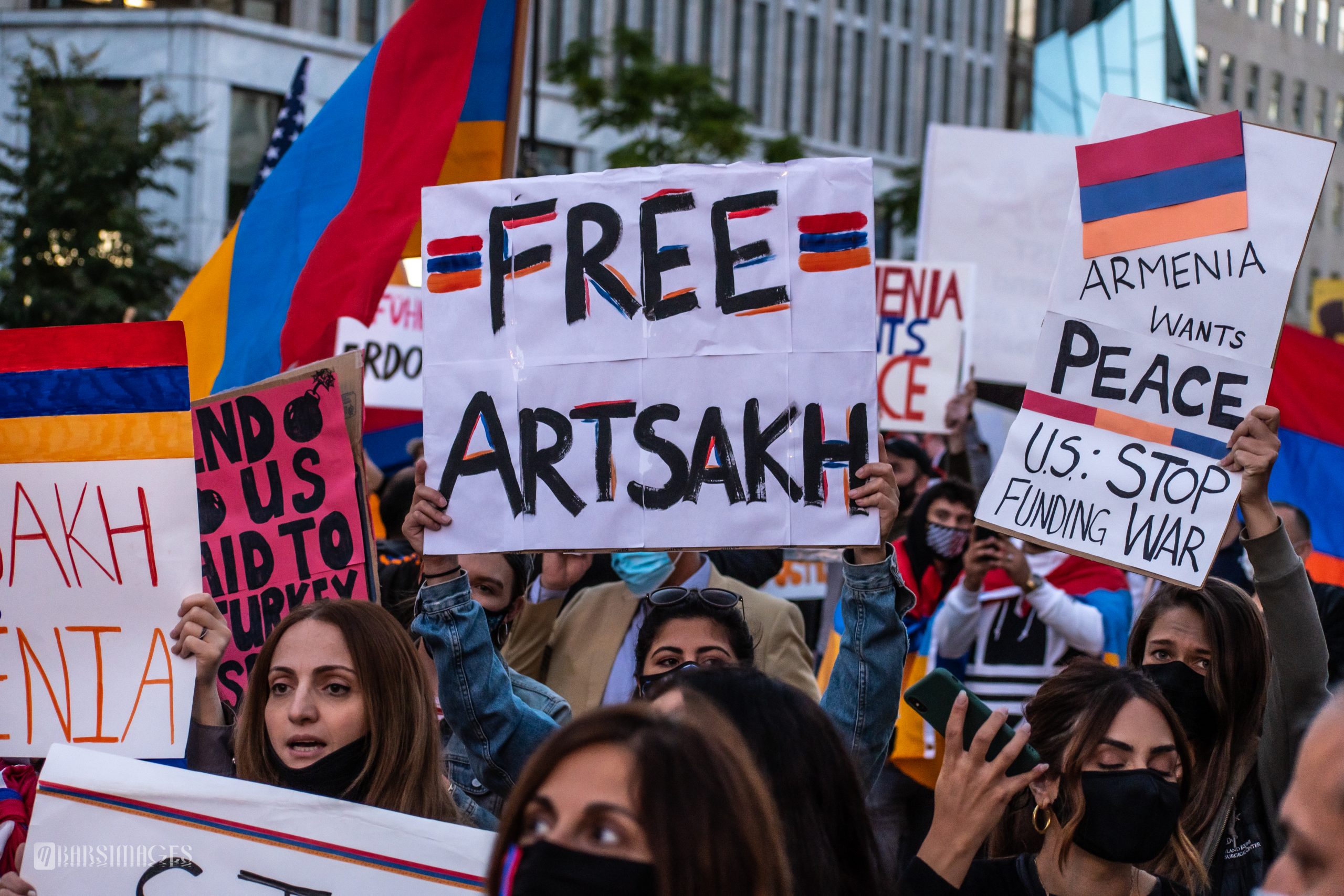 Hitler's tactics of extermination were learned from Talaat Pasha, the lead perpetrator of the Armenian Genocide, including the Ottoman Empire's use of concentration camps. In 1939, right before the Nazi invasion of Poland, Hitler mentioned the Armenian Holocaust in a speech to his commanders. He sought to motivate soldiers to slaughter the Polish by pointing out that the memorable aspect of this territorial conquest will not be the killing, only the strength of the German nation. "Who, after all, speaks today of the annihilation of the Armenians?" This annihilation must not remain unspoken.
Soon after the 1917 Revolution, Russians Sovietized both Armenia and what would later become Azerbaijan. The Russian language became taught in schools, Russian technology became widespread, religion was discouraged, and class consciousness was expected to establish "fraternal solidarity" (Stalin) between peoples that were historically at war. Half a year after Stalin wrote that "Azerbaijan voluntarily renounced its claim" to Artsakh, he granted it to them in July 1921. Though the region was technically assigned to Azeris, it did enjoy some administrative autonomy throughout Soviet years. Since the fall of the USSR, however, much of the Artsakh population fights for independence or to be rejoined with Armenia.
"Artsakh has its own president. The struggle has been for self-determination without Azeris and Turkish disruption." (Andreasyan)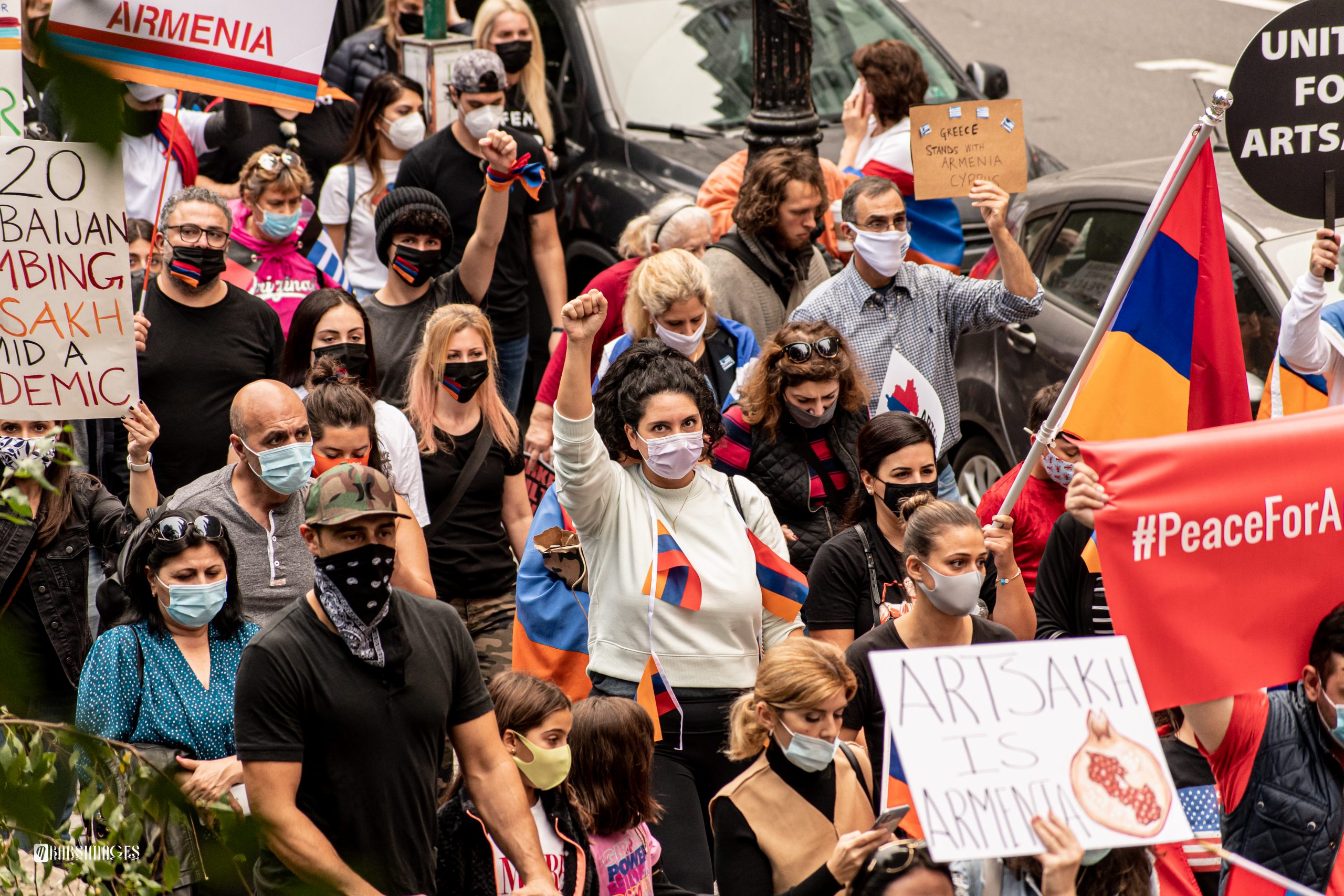 After a successful popular revolt, a new prime minister came to power in Armenia. This month, however, two years after his installment, a peace agreement was signed which handed Artsakh to Azerbaijan, forcing thousands of Armenians to flee their homes. There is widespread disappointment, as well as concern for the future. If the stifling of the Armenian people and territory is allowed to continue, what will become of the ancestors of this civilization?
To be an Antifascist in these times demands an understanding of history that goes beyond what is presented by popular culture. If the unimaginable concept of bystanders in Nazi Germany still haunts us, what will we be a hundred years from now? We don't have to become one more generation to fall in the trap of mass misinformation and disinterest for the well-being of those different from us. There is still time to use the technological advancements of our century to put an end, once and for all, to some of the most horrific practices we've seen throughout human history.
While fake news becomes a weapon of war, obstructing an already difficult path towards solidarity, we mustn't refrain from engaging because of it. Complex situations are often are the ones that need our attention the most. Distant realities, with complicated histories, are only more reason to seek information and offer help to those whose existence is threatened. The existence of the Armenian people is threatened, and they offer the world little more than their ancient culture and unique history. Foreign intervention may well be in this case necessary, a demand of locals, provided with no ulterior  motives, only with true solidarity and respect for its people.
_____
text: Mirna Wabi-Sabi
Photographs: Harout Barsoumian